iGaming Industry News
There are plenty of video slot games that promise the "jackpot to end all Jackpots", but G.Games have created the Million Euro single spin slot game that actually is the jackpot to end all jackpots with the Million Book slot.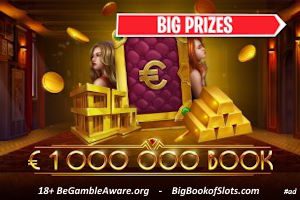 The Million Book by G.Games is a high volatility, crazy slots where you can win up to €1,000,000 from just a 1€ spin.
Welcome to the fabulous Million Book game that is packed with bonus features and paylines. Enter a world of wealth, luxury and total excess with a slot game that has the potential to take you to the playground of the super-rich.
The Million Euro payout
Sounds easy enough, but getting your hands on the big one will take more luck than any one person is entitled to. Firstly, you need to be playing the full 5 reels with 10 pay lines with a minimum bet of €1 per spin, which is a pricy game. Then, you need to collect all five Book scatter symbols (one in each reel) to win the full Jackpot amount. At which point, all the bells and whistles sound and you are the newest Millionaire in Gambling.
However, there are conditions. Play with less than the stated bet, and you win a portion of the pot. i.e. bet €0.50 and land all five Book scatter symbols and you'll get 50% of the €1,000,000 pot. The odds of winning are not calculated here, but they are pretty high. Winning in general is not guaranteed, and with a 95% RTP to this game, the volatility is high, so expect a series of dead spins.
Just to give you an idea of the prize pot, landing five of the Book scatter symbols nets you €1,000,000. Game over, retire, millionaire status achieved. Drop four of the Book scatter symbols and all you get is €20 and 10 free spins?!! From €1mil to €20 in the space of 1 reel!!!
Imagine the excitement and frustration of only dropping four Book scatter symbols. It's enough to make you cry. The only thing more frustrating than that would be dropping all five Book symbols in "demo play only" mode.
Game Summary
For the most part, this is just another Book of… games that entertains and excites in the way that others do. The jackpot is a semi-standard €10,000 when you manage to bag five Jackpot symbols of the main character flanked by two sexy-looking women (slightly sexist we know). Line all five up and you drop the game's main €10k payout.
Summing up this game is easy, it's a clever game that really does get you excited. Beyond excited especially when you drop four of the Book scatter symbols. The problem with this game is also easy to describe. Bagging all five of the Book symbols is near impossible, which turns this game into just another Book of… game, albeit a potentially life-changing one.
That said, a great game to unwind and enjoy. Other games by G.Games are the absolutely fabulous Psycho Candies, Vegans vs Vampires, and my favourite Vomiting Unicorns. Fun games that make you want to come back.
Gambling is harmful when done to excess. Gamble responsibly and enjoy. Read the full game review here.
Game Developer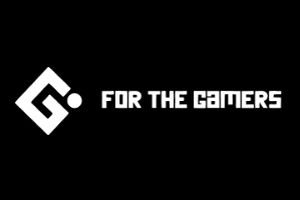 G.Games (formerly Gamevy) is likely to push the boundaries of the gambling slot, and not just with the games that offer massive Jackpots. Their objective is to create exciting, challenging, and competitive gameplay that is as diverse as the players they aim to attract.
The average video gamer is 34,45% female. With Slots, Lotto, Scratch, and video Bingo all on offer, and multiplayer video games on the horizon, you can see why.
Responsible Play – Adults Only Game
All Evoplay games are 18+ games only and involve gambling. Welcome Bonuses refer to New players only. Wagering requirements always apply unless specified. Bonuses, RTP %, Providers, Casinos, Games and Wagering requirements may change depending on where you play. Free games and promotions are for funded players unless specified. Withdrawing funds requires proof of an ID. Always read full T&C's before playing.