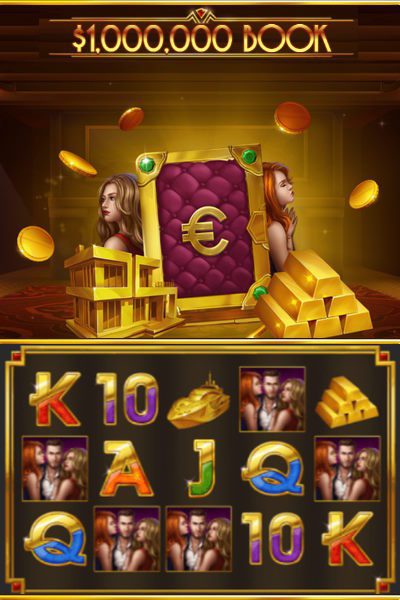 Million Book Review
Game Specifications
Mechanics: 3-reels • 5-lines • 10-Game
Features: Expanding symbols
Return to Player (RTP): 95% *can vary between casino sites
Volatility: Very High
Developer: G.Games
Rating: 8.6/10 Stars.
Comment: It's all about the massive life-changing jackpot. The ultimate gamblers game.
*All games have been played and tested by us in a neutral environment that is not dependent on or influenced by any Casino or game provider.
Game Content
Can you really win £1,000,000 on a single spin? YES, that's why this is called the Million Book. Sadly, we haven't managed to do it yet, but not through lack of trying. Great idea, enjoyable Book of… game that really draws the crowd in.
The Million Book by G.Games is not your typical Book game. This game comes with some serious cash attached, but getting your hands on it requires a bucket load of luck, a tasty starting pot, and a few playing requirements.
Every Book of… game that I have played has been fun and at times exciting/frustrating in equal measures, but this game really got me going. I dropped 3 of the book symbols in the first three reels, in my first spin, and just about burst with excitement. Three books get you 10 free spins which was a fabulous start, but that started me on a journey of spin mania that I have seldom experienced.
Oddly enough, this isn't a great game to play. The pots are not what you'd call massive (except the big one obviously), and the wins are few and far between due to the 95% RTP, yet this is still a seriously addictive game that could lead to serious problems. To start with you need to play each game with a £1 stake, otherwise you can't win the £1,000,000 Jackpot. Obviously, you can play 50p games, but you only get 50% of the pot etc, etc.
SO, for the most part, players will play £1 games, which rotate at a great rate of knots, which means that your starting pot dwindles super-fast. There were small wins thrown in, but on average, my wins were smaller than my stake, which is a loss no matter which way you look at it. To be honest, this is the first Book of… game in which I chased the jackpot rather than played to win free spins. Not the way to enjoy a Book of… game.
£1,000,000 payout
Getting your hands on the £1,000,000 is easy. Drop 5 matching Book symbols (1 on each reel) playing a minimum of £1 stake per spin and the jackpot is all yours. Simple! Well simple might not be the correct word I am looking for here, because except for my first spin, I never managed to bag 3 Book symbols to get the Free spins, let alone 5 books. A frustrating game. Yet I couldn't stop playing it. The Million Book by G.Games is a game that will have you on the edge of your seat, right before frustration kicks in and you do it all again.
The safer gambling element to the Million Book is good, with everything selected through autospin mode. Once there you have several options that include Balance increase/decrease, Stop before/after function, and good old-fashioned autospin function of 10 up to 100 spins. This game also has a Turbo and Super Turbo mode, which eats your pot like a hungry hippo. Best avoid and enjoy the game at normal speed.
Game Developer
G.Games (formerly Gamevy) is likely to push the boundaries of the gambling slot, and not just with the games that offer massive Jackpots. Their objective is to create exciting, challenging, and competitive gameplay that is as diverse as the players they aim to attract. The average video gamer is 34,45% female. With Slots, Lotto, Scratch, and video Bingo all on offer, and multiplayer video games on the horizon, you can see why.
Bonus Feature
Free Spins
Summing up the Million Book is easy. I loved this game for all the wrong reasons, and I chased the pot rather than played the spins. The graphics in this game are basic, yet colourful enough to hold your eye, and the soundtrack is nondescriptive. The animation is basic too, but to be honest, all I was interested in was watching for those Book symbols.
The basis of the Million Book by G.Games is based around the classic scatter symbols that you'd normally get with any Book of… slot. Bag a minimum of three scatter symbols to trigger your Free Spins bonus round.
Gamble Feature
There is no Gamble feature in this game, which is probably a good thing considering the speed at which I emptied my pot.
Age Verification
All slot/casino games are gambling-related and for adults only. Proof of ID is always needed when registering with any online Casino where this game is available. 18+ BeGambleAware.org
Responsible Play – Adults-Only Game
18+. When selecting an online Casino, all welcome bonuses refer to new players or first-time depositors only. Wagering requirements always apply unless specified. Bonuses, RTP %, Providers, Casinos, Games, and Wagering requirements may change depending on where you play. Free games and promotions are for funded players unless specified. Withdrawing funds requires proof of an ID. Always read full T&C's before playing.
Below is a selection of casinos that host games from this game provider. For more information on any of the below
online Casinos, click on the image to go to our Casino reviews.
The BigBookofSlots is an affiliate site, which means that we earn our crust by referral. For more information read our About Us page.