Safer Gambling week is back and more important than ever. With more of us now housebound or working from home than ever before, the campaign for Safer Gambling takes another look at what measures can and are being used in the prevention of gambling addiction.
Although Gambling Awareness is something that the Gambling industry take seriously 365 days a year, it can't harm to spend a dedicated week looking at safer gambling and making players aware of gambling safety and the tools that websites offer to help.
Age Restricted
Gambling is age restricted to 18+ (21 in the States). This rule is set in stone and does not get broken, amended to suit or circumvented. You need to be 18 years of age to gamble, anything less and you will not be permitted to open an account, deposit, play or withdraw funds. All gambling operators will demand proof of ID before you can open an account with them. Further age checks will be carried out when you try to withdraw funds/winnings.
Safer Gambling
Let's start with the obvious, what is Safer Gambling? In short, Safer Gambling is knowing your limits. The first and probably most important aspect of this is your financial limitations. Gambling is never free, regardless of what the bonus offer suggests. There is always a price to pay. The price isn't just spin/game/draw related but could and does have a long-term effect on your bank balance.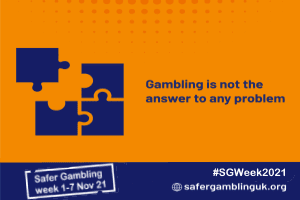 Safer Gambling week 2021 starts from the 1st Nov – 7th Nov 21, and is designed to highlight what you spend on gambling. This isn't an intervention to get you to stop gambling. It's a heads-up to gamble in moderation. Take time to stop and look at your outgoings.
Gambling is or should be something that we do as a means of entertainment, not for profit. Unless you are a professional gambler, every bet you place or every game you play should be measured. Control your time playing, your spending, and most importantly, your losses.
All gambling websites offer Safer Gambling measures set up to help you control what you spend, and how you gamble. These are free and easy to access. All you need to do is click on the Responsible Gambling link that every site offers, and the information and help are available.
Gambling Addiction
There is a darker side to gambling that never seems far away. We all know that addiction is something that is difficult to control or stop without help. That help is available and it's FREE, but the first step is usually the hardest. You need to recognise the signs of addiction or the early onset of addictive behaviour.
Gambling offers something that no other paid entertainment service does, a chance of getting your "entry fee" back with interest. Stick £1 in a slot and drop a £500 pot, and you've serious profit with little or no effort. Sounds great, but when that win doesn't come and you are still chasing that pot £500 later, you have a problem.
Know the signs of Gambling Addiction
Spending more money and time on gambling than you can afford
Finding it hard to manage or stop your gambling
Lying about your gambling or hiding it from other people
Chasing your losses or gambling to get out of financial trouble
Gambling until all your money is gone
Safer Gambling Week 2021 is just the start of what could be a wonderful gambling experience, but you need to do it responsibly, measured and within your limits. Make this week the start of your Safer Gambling commitment. Please Gamble Responsibly.
If you need help all you have to do is ask, or click on the below links to go directly to one of the many dedicated sites for gambling addiction.
*Deposit Bonuses refer to new players only. All free games and promotions are for funded players only. Withdrawing funds requires proof of an ID. 18+ players only. BeGambleAware.org. Wagering requirements apply. Bonuses, Games and Wagering requirements may change. Please read full T&C's before playing.