The brilliant Play OK at Casumo feature is a real winner with the players and with us. The safety play information is a serious step in the right direction, especially if you are having problems.
Playing at any online casino should be fun and entertaining with a side order of positive gambling but controlling how much we play and how much we spend is not as easy as it sounds. Especially when we factor in the all-important point of how much we can actually afford to lose.
Play OK at Casumo has come up with a few safer gambling tips to help make sure your gambling is within your limits with a place to turn if control is lost. At Casumo help is never far away.
Set your Limits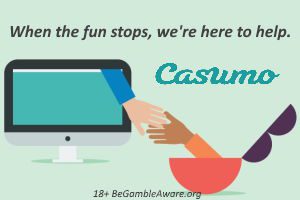 It sounds simple enough, set your limits and play responsibly, but we know that it is harder to do than to say. The tools available at Play Ok at Casumo are Deposit Limits, Wager Limits, Loss Limits, and Logged-in Time Limits. All of which are designed to give you a break from gambling.
This is gambling, so you are always going to lose money no matter how lucky you get. Using the Loss Limiter is a great way to keep your losses to a controlled amount. The Time logged-on indicator is another great way to keep you informed of your gambling habits. We all lose time of how long we've been playing, so a "heads-up" indicator to let you know that you've been playing for 30 mins, 1 hour etc is no bad thing.
Help is at hand
You can't gamble your way out of debt, and you can't always win back what you have lost, so if you feel that control is slipping away, or you've repeated unsuccessful efforts to control, cut back, or stop gambling, then you need help.
If you are considering self-exclusion as an option to slow your gambling down, then consider registering with GAMSTOP. GAMSTOP is a free service that enables you to self-exclude from all online gambling companies licensed in Great Britain. To find out more and to sign up with GAMSTOP please visit www.gamstop.co.uk
There are plenty of sites out there that are dedicated to helping you slow down or stop completely, and they are all Free. All you need to do is contact any of the completely independent helplines and they will do the rest.
CasumoCares
If you are a Casumo player, then check out the CasumoCares site. This is a dedicated site that offers help to players who need it. This is also where you can find important links where you can seek advice for you or your loved ones.
Know the signs of Gambling Addiction
Spending more money and time on gambling than you can afford
Finding it hard to manage or stop your gambling
Lying about your gambling or hiding it from other people
Chasing your losses or gambling to get out of financial trouble
Gambling until all your money is gone
Play OK at Casumo is just the start of what could be a wonderful gambling experience, but you need to do it responsibly, measured and within your limits. Please Gamble Responsibly. If you need help all you have to do is ask, or click on the below links to go directly to one of the many dedicated sites for gambling addiction.
*Deposit Bonuses refer to new players only. All free games and promotions are for funded players only. Withdrawing funds requires proof of an ID. 18+ players only. BeGambleAware.org. Wagering requirements apply. Bonuses, Games and Wagering requirements may change. Please read full T&C's before playing.