iGaming Industry News
Whatever your slot game preferences, the legendary Wilde family has you covered. Meet the Wildes at Play'n Go for some treasure hunting action-packed slot games.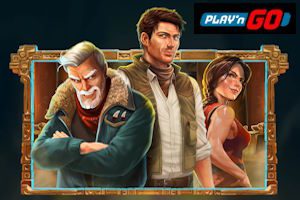 The Wilde Series of slots offers a captivating array of adventures tailored to suit every taste. Whether you have a fascination with the mysteries of Ancient Egypt or a desire to uncover the secrets of long-lost Mesoamerican civilizations, this collection has something special in store for you.
Embarking on these thrilling quests is a tradition deeply ingrained in the Wilde family's DNA. Explore the captivating narratives and natural aptitude for treasure hunting that define each member of this extraordinary lineage.
Within this series, you'll discover character-driven epics, exhilarating bonus features, and a diverse range of slot styles to choose from. Whether you prefer the classic appeal of a 5-reel slot, the excitement of a grid-based game, or the allure of a unique and educational expanding slot, there's a game perfectly suited to your preferences.
Rich Wilde
The daring and devilishly handsome adventurer Rich Wilde has traversed the sands of Ancient Egypt and ventured into the depths of the lost city of Atlantis. His mission is to unearth precious relics and safeguard them from those with nefarious intentions. Don't miss the captivating Rich Wilde and the Book of Dead slot.
Cat Wilde
Following in her father's footsteps, Cat Wilde shares his passion for treasure hunting. With a strategic approach to her expeditions, Cat finds herself entangled with spirits and ancient deities as she embarks on a quest to discover legendary treasures.
Gerard Wilde
The unconventional member of the family, Gerard Wilde challenges convention at every turn. Having experienced his fair share of trouble over the years, Gerard now seeks redemption to restore the honor of the Wilde family name.
Immerse yourself in the world of the Wilde Series and embrace the spirit of adventure that pulses through their veins. These extraordinary slots will transport you to captivating realms filled with excitement, mystery, and the promise of incredible rewards. Join the Wilde family on their quests and unlock the treasures that await you.
Game Developer
Play'N Go. P'nG is the definitive mobile games platform that dates back to the early 2000s'. A leading light in the online gaming world with entertainment as their primary goal. Play'n Go is an innovative software and game provider in the gaming industry.
Responsible Play – Adults Only Game
All Play'N Go games are 18+ games only and involve gambling. Welcome Bonuses refer to New players only. Wagering requirements always apply unless specified. Bonuses, RTP %, Providers, Casinos, Games and Wagering requirements may change depending on where you play. Free games and promotions are for funded players unless specified. Withdrawing funds requires proof of an ID. Always read full T&C's before playing.