It should be the question on everyone's lips, to Bonus or not to Bonus. The question around taking your deposit bonus has been around for a while, and the good news is, there's no wrong answer.
Taking the deposit, no deposit or the in-play bonus means that you get a little extra added to your funds to play with. BUT, that isn't an unconditional freebie, so be warned. There are wagering requirements that could hamper your pay-out. Assuming you win that is.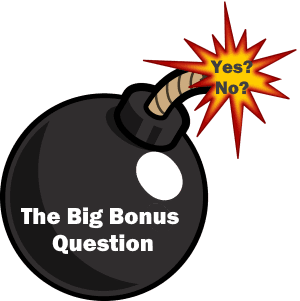 Obviously when Shakespeare wrote that famous quote from Hamlet, "To be or not to Be? That is the question—Whether 'tis nobler in the mind to suffer the slings and arrows of outrageous fortune, or to take arms against a sea of troubles, and, by opposing, end them?". Shakespeare knew that Deposit bonuses would be a question with no right answer.
Outrageous Fortune
Cashing in on any bonus is a temptation that many of us use. Me included. There is nothing wrong with taking your little slice of freebie. But you need to know that they come with conditions called wagering requirements. These usually kick in when you win using your bonus cash and want to withdraw your winnings.
A deposit bonus is essentially a virtual cash boost to your pot. This virtual cash boost is added to your account as "bonus funds". If you deposit £10 and the bonus is 100% match, then you get another £10 added to your player account. This is split into £10 real money and £10 virtual money. This gives you a starting capital of £20 combined. Once you start to play, your real funds are used first. This way the casinos have your cash before you use theirs. Standard practice from every casino.
A No Deposit Bonus works in the same way. Only you register without depositing cash, and they give you a bonus as thanks. The same restrictions deal applies. Free spins work a little differently, as they are usually limited to certain games, whereas a cash bonus can be used on all casino games.
Sea of Trouble
Wagering requirements is the deal that you make with the devil. Your bonus might be free virtual cash, but the "free" part is relative. Wagering requirements are designed so that you get a little extra help with your pot. What the casino doesn't want, is for you to drop the jackpot on their dime (bonus funds) than cash out and walk away with their cash and their jackpot. SO, they have a thing called wagering requirements, which, stops you from doing that.
You can still drop the jackpot using freebie funds, but you will need to stick to the wagering requirements before you can cash out.
Example: Your wagering requirements are x65. This means that you must play through your bonus 65 times before you can cash out your winnings in full. Sounds extreme, but it isn't really. The casino is giving you a boost to play more games, just that boost doesn't give you licence to empty the jackpot and take their cash.
If you play through your deposit and your bonus and have nothing to show for it, so be it. You are out of the wagering requirements clause. All you need to do is redeposit and play with your own cash. That way, when you drop the big one, the winnings are all yours.
The take it or leave it question boils down to personal preference. Taking a bonus is not a bad thing, you just need to understand that there are different levels of free. The same goes for the free spins options that you might get.
Do I take the Bonus?
Not always, but I am an experienced player and have used bonuses before but prefer not to use them now. I like to think that I am going to drop the big jackpot on my first spin. Then I can cash out and move to Vegas. If I need to factor in the wagering requirements surrounding a bonus, then Vegas is a little further away.