This week is Adventure Slots week at BigBookofSlots.com, and our top four are some of the best Book of… slot games out there. The theme is Ancient Egypt, and the Adventure is uncovering all the treasure that the lost tombs offer.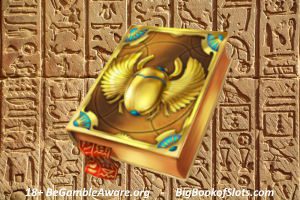 From re-animated Pharaohs to the God of Death and all the afterlife beyond, to the treasure trove of every plundered and not yet plundered pyramid, this week's top four slots are epic. And it's not all about the spins or the wins. Join the adventure of a lifetime without leaving the comfort of your play pad.
Relic Hunters and the Book of Faith
The brilliance behind Wazdan games has created a monster in this game. The graphics are fabulous, and the animation (when it happens) is well done. Every corner of this game offers something to look out for, which is rare in a slot game.
Normally all the action happens in the reels. Not this game. The negative side to that is that there is so much happening that sometimes when you win, you have no idea why. Not that that is a problem, but it does take a lot of getting used to.
There is more than one bonus feature in this game, with Pyramid Exploration Bonus and the Bastet Spins. Both are hard to get, but worth the wait. The gamble feature is great too, basic, but well done.
This is a 6-reels • 3-lines • 9-Game with an RTP of 96.5%.
We rated this game a 9.5 out of 10. Read more…
Book of Toro
The legendary Captain Diaz (Matador) is back with "Maria, Porque?", and it has been well worth the wait. The very talented Elk Studios have created a beast in the Book of Toro that makes you want to play all day long. The graphics are great and the "walking wild" card brings a smile to your face with it's cheeky dance across the screen.
Prizes in this game are generous enough, especially if you land one of the Walking Wilds, or the Mummy respins. This is a 5-reels • 3-lines • 9-Game with an RTP of 95%.
We rated this game a 9 out of 10. Read more…
Rich Wilde and the Book of the Dead
Legend has it that this is the Book of all Books, and the Rich Wilde is Indiana Jones reincarnated. All we know is that this is an incredible game. This book is based on a new storyline of the older games staring Rich Wilde. Having taken a step back from his adventures with Aztec Idols and the Pearls of India, Rich Wilde is back in the pyramids of Ancient Egypt. Anubis has opened the gates to the underworld and the Book of the Dead is ready for the taking. What more do you need?
Prizes in this game are pretty good but not epic. This is a 5-reels • 4-lines • 10-Game with an RTP of 96.12%.
We rated this game an 8 out of 10. Read more…
Book of Duat
Anna the Explorer from Ark of Mystery and Dinosaur Rage is back and better than ever in the Book of Duat. This might be the first Book of… series that QuickSpin has done, but this continuation of a popular queen of the nail-biting quests is brilliant.
The fabulous bonus feature or "Pick and Click" option is what makes this game stand out. This is a 5-reels • 3-lines • 10-Game with an RTP of 94%, 96& with Click feature.
We rated this game an 8 out of 10. Read more…
18+. BeGambleAware. All slot games are age-restricted. Some slots and Casino sites are country restricted. Deposit Bonuses refer to New players only. Withdrawing funds requires proof of an ID. Wagering requirements apply. Opt-in Required. Bonuses, Games and Wagering requirements may change. Please read full T&C's before playing.